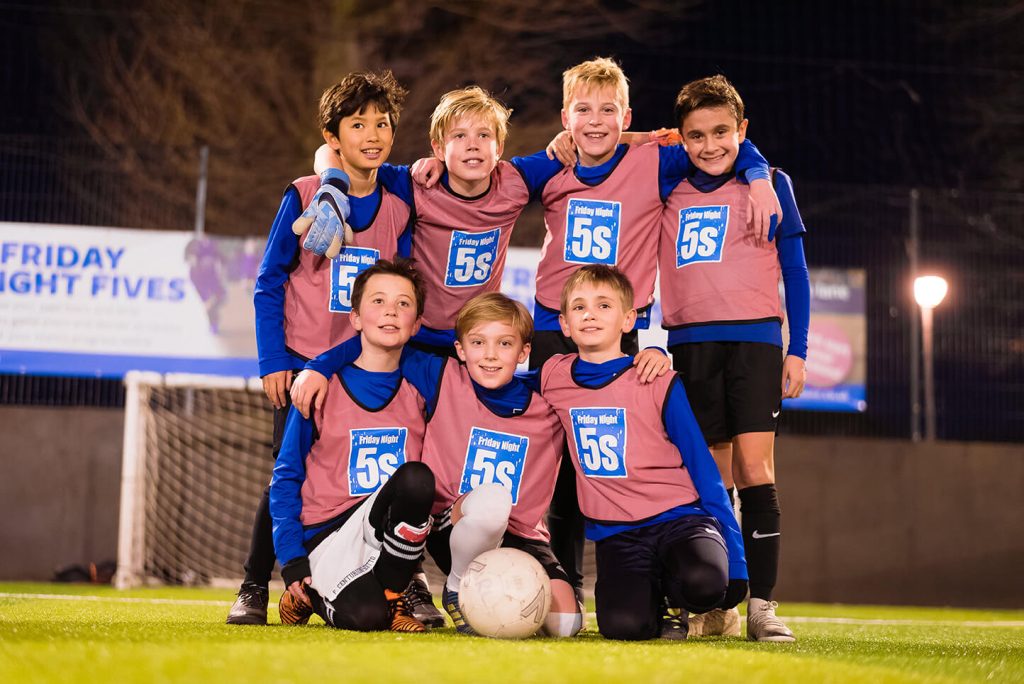 Playing football recreationally is fun for most children, but beyond the excitement of working towards victory, emulating their heroes and partaking in a spirited game with friends, there are more subtle benefits for young football enthusiasts. Like any extracurricular sport, recreational football is proven to help young players develop long-term skills, and shape their social strengths during crucial phases of childhood.
At Friday Night 5s, we're all about creating the most beneficial experiences for the junior players who participate. Here are the top 5 benefits of recreational football:
1. Improves the physical wellbeing of junior players
The most commonly talked about benefit of recreational sport is the fact that it gets children off the sofa and keeps them moving. Last year saw
record high levels of childhood obesity in the UK
, and it is unfortunately still a major issue throughout society. Although diet and genetics are not discounted, a major cause of the obesity crisis is the lack of adequate exercise for children. Many children in modern society are used to 'playing football' with their thumbs, and while video games (or eSports) are thrilling, the virtual world can't beat fresh air and exercise.
Recreational sport gets your child used to health and fitness young age, and prepares them for how to handle physical challenges as they get older. Rather than sitting in front of the gogglebox, your child can partake in a weekly old fashioned runaround, which will do wonders for their physical wellbeing.
2. Improves your child's social skills
Social media is fast gaining ground over real-life contact and shows no signs of slowing down. Children no longer meet each other or play together like they used to. With the trend continuing, social skills are at risk of being under-developed in children who do not have real-world social interactions.
Psychology Today states
that social media is not required for healthy social development, rather, it 'replaces learning the hard social "work" of dealing face-to-face with peers, a skill that [children] will need to practice to be successful in real life'.
No one plays football without talking to their peers. As part of a team, junior players learn to speak to each other and collaborate. Furthermore, as a team they get to spend more time together, encourage each other and discuss their experiences (victories, losses, fun times) together, all of which helps them gain confidence in communicating with their peers. With competitive sport, conflict resolution may be required. With invested and well-trained coaches supervising, your child can be taught how to resolve challenges, and work through conflict in a positive way. Healthy communication is a skill that should be cultivated early and nourished well into adulthood.
3. Parent-child bonding
Very few moments compare to a child looking into the crowd and seeing their parents cheering them on. A parent's encouragement motivates a child to persevere and also adds another dimension to the recreational football experience. By associating their sporting events with your encouragement and approval, your child will look forward to their next sporting event and the quality time it brings.
When not taken to competitive extremes, sports, in whatever form, strengthen the child-parent relationship, demonstrating that you are invested in your child's happiness and success. Sometimes parents get so busy providing for the family – a weekly recreational football game is an ideal time to step out of every day responsibilities and take a moment to have fun and bond.
4. Fair Play
During a football game, different scenarios come into play. Junior players learn how to halt a game when a friend is down or injured, how to respect opponents no matter the circumstances, and how to be magnanimous in victory.
These are life lessons in subtle moments that children carry deep into their lives. By learning fairness and respect, your child will ideally learn how to respect anyone they come in contact with outside of the sport. Fair play also enables them to understand how to approach different scenarios life throws at them.
5. Teamwork
To win a match, a football team has to pull together good passes, good plays and a solid formation. A team must stand up for each other, with each member playing a role. Weekly recreational football will help young players trust each other to perform their roles and also teach them how to unite for a common goal. Each member is dependent on the other as part of a larger group. This instils a great sense of community and camaraderie with the junior players in a team.
All evidence suggests that recreational sports should be encouraged. More children should spend time with their peers, learning valuable lessons on the pitch or off it. Such activity sharpens their minds, keeps them fit, and broadens their horizons – and there's plenty of fun to be had in the process!